"The McKinsey Global Institute estimates that about half the activities that workers are paid...to perform in the global economy have the potential to be automated."
If you are a small or medium-sized business leader, and you are thinking about implementing Robotic Process Automation (RPA), this tip sheet provides you with some important guidance to ensure your success. You will find answers to questions such as:
When should I get started with RPA?

What tasks should I automate first?

How can I ensure long-term success with RPA?

And more!
RPA is soon to become a core competency of successful business operations everywhere. Get ahead of the curve, and download your free copy of "Top 5 Tips for Small and Medium-Sized Businesses Implementing RPA" today!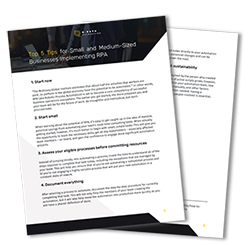 Fill out the form below to get your FREE GUIDE!