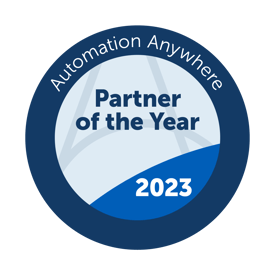 AUSTIN, TX – September 20, 2023 — Jim Frost of R-Path Automation (R-Path) was named Automation Anywhere Community Partner of the Year at the annual Partner Summit hosted at the JW Marriott in Austin Texas on September 18th, 2023.

This award celebrates individuals with the highest engagement within the Automation Anywhere Community, whether it be for the highest number of forum contributions, or overall community partnership efforts.
"Automation Anywhere is delighted to recognize Jim Frost for this award," said Ben Yerushalmi, VP of Alliances and Channels. "We are at the precipice of a tectonic shift in the way our customers work and leverage technology with the combination of generative AI and automation. I look forward to continuing these partnerships to deliver innovation and digital transformation to our joint customers."
"Jim's recognition as an Automation Anywhere Community Partner of the Year is truly well-deserved. His dedication, expertise, and active participation have not only elevated the community but have also inspired all of us at R-Path Automation. We're proud to have such a passionate and committed individual like Jim on our team," said Ken Furlong, VP of Digital Transformation at R-Path Automation.
About Automation Anywhere
Automation Anywhere sees a future where automation liberates people from mundane tasks to solve more creative, higher order business challenges. The technology empowers everyone to unleash their potential in the workplace—and in their life's work. In other words, to go be great.

About R-Path Automation
R-Path Automation is a leading consulting firm that specializes in designing and deploying intelligent automation solutions for mid-sized enterprises. With an extensive range of automation tools and platforms at their disposal, and a unique quick-start methodology, they identify business processes that are prime candidates for automation. R-Path Automation enhances operational efficiency and establishes a foundation for a future where automation plays a central role. Their mission is to equip organizations to seamlessly transition into an automated future.